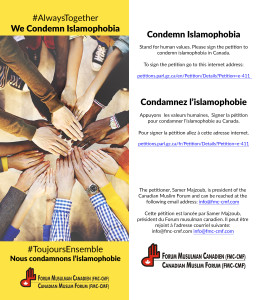 Un appel à tous les Canadiens/ A call to all Canadians –
#Toujours Ensemble/ #Always together
English follows :
Une pétition a été rédigée pour condamner l'islamophobie dans tout le Canada.
https://petitions.parl.gc.ca/fr/Petition/Details?Petition=e-411
Cette pétition sera présentée à la Chambre des communes afin de passer au vote et à l'adoption par le Parlement fédéral du Canada.
Avec le  plus de signatures que nous recevrons, la pétition aura le plus grand impact et créditbilité.
Nous appelons, les membres de vos familles, vos amis, et vos contacts à participer à cette campagne de signatures " en ligne" dans le but de rendre nos voix et nos préoccupations entendues.
Pétition parrainée Par: le député libéral. M. Frank Baylis, député de Pierrefond pour le Parti libéral du Canada.
Lancée par Samer Majzoub de Pierrefonds (Québec) le 8 juin 2016 à 17 h 45 (HAE).
Forum musulman canadien (FMC -CMF ) invite tous les Canadiens à signer la pétition en ligne en grand nombre .
English:
A call to all Canadians #Always together
A petition has been drafted a in order to condemn Islamophobia in all of Canada.
https://petitions.parl.gc.ca/en/Petition/Details?Petition=e-411
This petition will be presented in the House of Commons in order to be voted and adopted by Federal Parliament of Canada.
The more signatures we have, the easier and the bigger impact that petition will have. We call upon you, family members, your friends, and your contacts to participate in this campaign of   ' online ' signatures ' in order to make our voices and concerns heard.
Petition sponsored by: sponsored by the Liberal MP . Mr. Frank Baylis , MP  for Pierrefond for the Liberal party of Canada.
Initiated by Samer Majzoub from Pierrefonds, Quebec, on June 8, 2016, at 5:45 p.m. (EDT).
Canadian Muslim Forum (FMC-CMF) urges all Canadians to sign the online petition in big numbers.