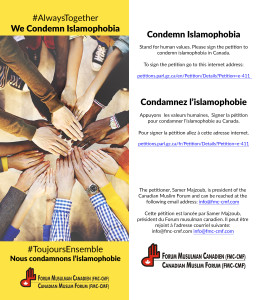 English Follows :
-Pour diffusion immédiate-
Montréal, le 07 Octobre 2016 -Le (FMC-CMF) félicite les dizaines de milliers de Canadiens, à travers tout le pays, pour leur soutien de la pétition déposée à la Chambre des communes pour dénoncer la discrimination, l'intolérance et le discours de haine.
«Je suis ravi d'avoir des signataires canadiens de diverses communautés pour soutenir la pétition condamnant l'islamophobie. Cet appui solide, qu'a eu la pétition e411, est un message fort à nos élus et représentants à la Chambre des communes pour se positionner tous contre toutes sortes de préjugés et de haine que peuvent subir les canadiens », a déclaré M. Samer Majzoub, président du Forum musulmsn canadien (fmc-cmf) et instigateur de la pétition e411.
M. Majzoub a annoncé : "le (FMC-CMF) et moi tenons à remercier ardemment les bénévoles, les dirigeants communautaires et les militants civils pour le travail inlassable qu'ils ont montré pour la promotion de la pétition e411 pour condamner l'islamophobie partout au Canada », et a ajouté : « nous offrons nos sincères appréciations à M. Frank Baylis, le député fédéral de Pierrefonds-Dollard, qui a parrainé la pétition et a rejoint tous les efforts contribuant ainsi à la réussite du projet ».
M. Frank Baylis a commenté à son tour lors de la clôture de la pétition : «Je suis tellement heureux de voir à quel point les Canadiens ont répondu à cette pétition. Nous vivons dans un grand pays "
CMF-FMC appelle tous les élus fédéraux de tous les partis politiques représentés à la Chambre des communes de répondre aux attentes des Canadiens, de protéger la dignité de tous les citoyens, d'être inclusifs, et de promouvoir les valeurs canadiennes en prenant une position claire contre toutes sortes de xénophobie et d'adopter la motion pour condamner toutes les formes de discrimination et d'islamophobie.
Contact :
Samah Jebbari : 514 886 8414
Kathy Malas : 514 594 1402
English :
Montreal, Oct 7, 2016 – The Canadian Muslim Forum (FMC-CMF) congratulates the tens of thousands of Canadians, from coast to coast, for their support of the petition requesting from the House of Commons to denounce discrimination, bigotry and hate speech.
"I do express my gratefulness for having Canadians from various communities sign the anti-Islamophobia petition. The solid support that petition got sends a strong message to our representatives at the Ottawa Hill to stand up against any sort of prejudice and hatred in Canada," stated Mr. Samer Majzoub, FMC-CMF president and initiator of e-411 petition.
Mr. Majzoub added, "FMC-CMF and I would also like to whole-heartedly thank all the volunteers, community leaders, and activists for their tireless work toward promoting the e-411 petition all over Canada. Special appreciation goes to Mr. Frank Baylis, the Federal MP of Pirrefonds-Dollar, for sponsoring the petition and joining the effort to make it a successful project".
Mr. Frank Baylis commented during at the closing hours of the petition, "I am so happy to see how Canadians responded to this petition. We live in a great country."
CMF-FMC calls on all Federal political parties represented in the House of Commons to measure up to the expectations of all Canadians: to protect the dignity of all citizens, to be inclusive, to carry true Canadian values by taking a solid stance against all forms of xenophobia, and to adopt an attitude that condemns all forms of Islamophobia .
-30-
Contact :
Samer Majzoub : 514 884 0852