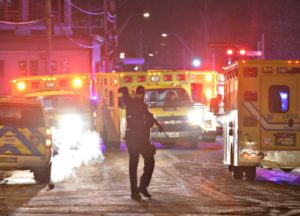 – For immediate release –
Montreal, January 30, 2017 – The Canadian Muslim Forum condemns the terrible terrorist shooting in a mosque in Sainte-Foy against Muslims in Quebec and is deeply shocked.
The Canadian Muslim Forum (CMF-CMF) expresses its utter dismay at the extremist attack in Quebec City which resulted in several deaths and injuries.  "Faced with the continuing and incessant increase of violent attacks on community places of worship in Quebec, violence is escalating and here we are, facing a massacre: fathers of families and young men shot atrociously by Barbaric shooters," said Samer Majzoub, the president of the Canadian Muslim Forum.
The Muslim community in Quebec is suffering from a flood of hate attacks on places of worship and now the attacks are escalating and bringing back the death of innocent people. We firmly believe that such attacks are fuelled by the Islamophobic sentiment and the smear campaigns that we have seen recently in the province. "
"We call upon authorities to work hard to control the situation and stop these murderers from preaching violence in the country. We also call on the provincial and federal governments and the responsible authorities to step up their efforts to ensure the safety of their people by taking measures to ensure the safety of all Quebeckers. "
" The FMC-CMF shares the grief of the families of the victims and prays for the innocent: "My prayers are with families, friends and loved ones in mourning," adds Majzoub and continues with certainty that "this massacre does not represent the values Quebecers and Canadians of peace, equality and freedom of belief and will not disunite us. "
-30-
Contact:
Samer Majzoub: 514 884 0852