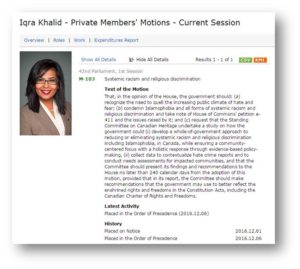 FMC-CMF calls on Members of the House of Commons to Support Motion M-103
-For immediate release-
Montreal, February 11 – The Canadian Muslim Forum (FMC-CMF) calls on MPs to support the Motion M-103, a motion following the condemnation of Islamophobia, adopted on the 26 October 2016.
"This motion is essential to counter all forms of discrimination, including Islamophobia," said Mr. Samer Majzoub, President of the FMC-CMF. The motion is proposed by Ms. Iqra Khalid of Mississauga-Erin Mills and will be debated on February 15th. M-103 proposes an in-depth study on systematic racism, religious discrimination and Islamophobia, and calls for the development of concrete actions based on a holistic and an evidence-based approach to counteract this scourge.
"Building this study is essential to detect the root causes of racism, discrimination and hate incidents and crimes. These causes need to be further disclosed in order to better target effective means and strategies to counter them. With Motion M-103, we will take affordable measures to limit, and even prevent and eliminate Islamophobia, and promote better living together, " adds Majzoub.
"We ask all of our elected officials to support this motion to defend our human and collective values, our rights and freedoms, and to promote "l'agir-ensemble"," concludes Majzoub.
-30-
Contact:
Samer Majzoub: 514 884 0852